I know! The struggle is real on Spoonflower!
Do you want to get started as a seller on Spoonflower but don't know where to start?
Are you already a seller on Spoonflower who can't seem to get sales or consistent ones?
Are you wanting your shop to be seen, more? Hearing crickets?
Can't stay consistent in your workflow?
Don't know when you should be releasing designs to sell for the right seasons?
Having trouble getting your colors or scaling right for printing?
Wanting to know what scales are best for certain products?
Are you feeling burned out or uninspired?
Are you suffering from imposter syndrome?
Can you imagine this.....
Getting set up on Spoonflower and AVOIDING common mistakes LOTS of designers are currently making?
Being able to get sales in your Spoonflower shop or print-on-demand shops, consistently?
Learning balance so you don't burn out?
Creating work that STANDS OUT from the crowd ALL THE TIME?
Releasing collections on time so they SELL at peak times?
Feeling CONFIDENT in your designs and Signature Style to successfully sell on Print-on-Demand? 
Having a Spoonflower Portfolio that attracts the perfect buyer?
How about FINALLY getting all your questions about Spoonflower answered?
  What if I told you all of these are 100% POSSIBLE FOR YOU? 
You CAN make a living as a surface pattern designer only selling on Spoonflower! I'm the right person to show you the path to do it because I've ALREADY been there!
Industry Leader and Top Selling Spoonflower Pattern Designer
Mindy Young of Indy Bloom
I'm Mindy Young, a self-made artist, and surface pattern designer who started selling my designs at Spoonflower and grew my painting hobby at nap time to a MULTI-6-FIGURE pattern design business in a few years' time! I know what it is like to try to balance home life while running a business! I've proven, It CAN be done! 
I've created a thriving community of customers who keep coming back for more! I know I can help you create customers like this too!
 I'm doing things MY way or the Mindy way. The best part! It can be taught and YOU can see what is possible for you as well! 
I have PROVEN that knowing and being BUSINESS SAVVY is why my Spoonflower shop continues to THRIVE even though the market is FULL of designers and artists alike!
Let's get you on a path to success! This online course is going to set you up to know the skills it takes to run a SUCCESSFUL Spoonflower shop!
Here's what you can expect in the course!
A library packed full of 70+ lessons on all topics relating to Spoonflower and how to market and sell your designs, my specialty! Go from beginner to expert along with printouts and worksheets to help you succeed and stay on track in making sales.  
Half of this course is setting up your shop and half is marketing and business so you can SELL your designs.
This course is for ALL surface pattern designers who already know how to make patterns. It's not for beginners needing to learn how to do art or make patterns. That will NOT be taught in the course.
Lifetime access! Go at your own pace and watch lessons as slow or as fast as you want to.
Some Topics we will cover in the course!  Getting started on Spoonflower, uploading, scaling your designs, and colors and how to get them right for samples, ordering samples to save money, knowing your customer, how to actually make sales, Spoonflower contests,  marketing on Instagram and Pinterest, Spoonflower portfolios, Will you still be able to get licensed if your designs are on Spoonflower? And more!
Worksheets and downloads to help you succeed!
Guest speaker and teacher in two of the lessons! Learn from a maker what she needs from us as designers. You will also learn from a fellow designer how she launched her first collection and get ideas on how to launch a new collection perfectly! 
BONUS: Get a 30+ page guide to help you along in the course.
This Indy Bloom signature Spoonflower guide will help you keep notes from the lessons compiled together. It also has worksheets to help you, a design schedule for what art you should be working on at what times, and a print-on-demand collection release schedule so that you can know when to release collections to make MAXIMUM sales on your designs!
NO MORE STRUGGLING!
If you've already tried to sell on Spoonflower without success or want to get started and avoid roadblocks. This course will help you get CLEAR on your goals and your customer, show you how to make sales in your shop, and LOVE being a seller on Spoonflower!
Are you the perfect fit for this course?
I'm looking for self-motivated surface pattern designers who are ready to do the WORK it takes to GET RESULTS selling your designs on fabric, wallpaper, and home goods.
This course is for Surface Pattern Designers who want to specialize in selling through Spoonflower a print-on-demand fabric and wallpaper company.
It is best if you already know how to make repeat pattern designs in Illustrator and Photoshop to take this course. (It will not be taught)
You DON'T have to already be a seller on Spoonflower. I have lessons for those who need help setting up an account.
You CAN already be a seller on Spoonflower and learn all my business SAVVY skills for success to help give your shop the momentum you've been lacking! YES, MARKETING MATTERS!
If you struggle with imposter syndrome, I'm here to help! Let's get you BELIEVING that you can DO this and call yourself a real "Surface Pattern Designer," in the industry!
Let me answer some questions you may have
Is this for Beginners? Will you teach me Photoshop and Illustrator?
WHEN WILL ENROLLMENT OPEN AND CLOSE?
Accepted forms of payment
What happens if I want to cancel and the course isn't for me?
What programs do I need to have for the course?
Here's what current students are saying about the course!
"I set up a spoonflower shop years ago and had such a hard time understanding how to set up a listing and knowing how to scale my designs in there correctly. In just the first handful of videos, Mindy answered all my questions and MORE and made it so easy to understand and do right away. She saved me so much time trying to google how to set things up, plus gave me so much insight I didn't even know I needed to know. I had been looking for something exactly like this and now I'm more excited than ever to finally open up my spoonflower shop! Thank you Mindy for this beautiful gift."
-Coley Kuyper
@coleykuyperart
" It can be overwhelming and lonely running your own business in surface pattern design. This is where Mindy and her Bloom community come in! She joins in beside you, to walk you through all things Spoonflower. Plus created a community to ask questions or dig deeper. All in one spot, so you're not jumping around different social platforms. Mindy's down-to-earth personality makes it so easy to learn from her videos and break tasks down step by step. I can even watch videos on the app in my car during my kid's sports practice! I just love learning from her!"
-Misty Swartz
@heartprintsbymisty
" This course is valuable and a must-take if you are starting your business as a pattern designer and want to be successful selling on Spoonflower. This course gives you all the tools and information you need to thrive on Spoonflower and it answers all your daunting questions."
-Mireya
@reyadesignstudio
" To learn from Mindy is to learn from the best! Her teaching style is clear, concise, and easy to follow, making it perfect for aspiring surface pattern designers. I highly recommend this course to anyone who is or is thinking about selling on Spoonflower. Mindy will answer all of your questions and save you a lot of time down the road!."
-Becca
@becca_alessi_design
" Thanks, Mindy!! The course is pure gold!!! I love that it is very practical that you can implement right away as you go through the lessons."
-Caro Garcia
@foxbearandme
"Mindy's course is fantastic! Very easy to understand and implement. It has everything you need to know Spoonflower and more! Mindy has a great teaching style and I will be coming back to this course again and again! Thanks, Mindy."
-De Strange
@strangeimages_photography
See and hear from other SUCCESSFUL SPOONFLOWER ARTISTS
Raquel Godsey - The Little Rose Shop
"I absolutely love selling on Spoonflower and using this platform for so many reasons: First-the income is passive and just comes in behind the scenes, you work once, and get paid 10x over and it just keeps growing with each year. Second- selling on Spoonflower means you're selling to other creative businesses who will basically be doing free marketing FOR YOU by sharing your work on their products- you get to participate in the success of their business and they also are sharing your art and marketing for you right back, so it feels like this amazing team. Third- you get to leverage the power of the Spoonflower platform by reaching people you would have never reached by just selling on your own- so it's the best way to get a jumpstart." -Raquel
Mandy

Corcoran -Amanda Grace Design
"As a designer on Spoonflower, I have the opportunity to bring my creative ideas to life and share them with a global community. Spoonflower is a unique platform that allows me to design my own fabrics, wallpaper, and gift wrap, and sell them directly to customers all over the world.
One of the things I love most about being a Spoonflower designer is the freedom to create whatever I want. I'm not bound by trends or market demands; instead, I can let my imagination run wild and create designs that are truly unique and personal.
Being a designer on Spoonflower has also taught me a lot about entrepreneurship and marketing. I've learned how to promote my designs, connect with customers, and run my own small business. It's a challenging and rewarding experience that has helped me grow both creatively and professionally." -Mandy
Diane Robison - Hey Cute Design
"Hey Cutes" - that's what I used to call my grandkids when they were littles. Yes! I'm a Granny (of 18) AND a great-grandma AND I'm a digital designer. My voice - happy, uplifting, smiley designs that "pop" from across the room. Spoonflower is such a fun way to share my work on fabrics instantly. I've been successfully selling through Spoonflower for many years and absolutely love working with them." -Diane
Erin Anne -Erin Anne Designs
"

I'm Erin of Erin Anne Designs! My designs offer light, free-flowing watercolors in bright hues and happy vibes. I continue to grow and expand my skills, but find the simplest style is the most loved! I have loved art for as long as I can remember and I'm so grateful for the opportunity to share it with others! I got my start on Spoonflower and still find it to be one of the best places for new artists to grow. It's easy to use and allows even the most simple design to become something unique and special. It's also an amazing place to connect with other artists of all skill sets!

." -Erin
Jen Glover - Juniper Row Design
"Selling on Spoonflower is a fun way to share my creativity! I love this platform for so many reasons. The passive income, the ability to communicate quickly with my customers, and the freedom to add new designs whenever I want are just a few! But my favorite is having the chance to share my art with such a wide range of people." -Jen
Audrey Fuller -Audrey Fuller Art
"

I'm Audrey Fuller, a fellow surface pattern designer creating bright and playful designs for your favorite small shops. Finding Spoonflower to share my designs has been a springboard for so many opportunities! It's given me a place to begin sharing my curated collections with others, as well as start building a portfolio that I feel confident in sharing with other POD sites. It really amazes me each month when I get my Spoonflower paycheck, that people are actually buying MY work. Setting up shop on Spoonflower has given me confidence as a designer, and allows me to help pay for my kids' sports! I'm forever grateful for Mindy's example and encouragement to just GO FOR IT and start

!

." -Audrey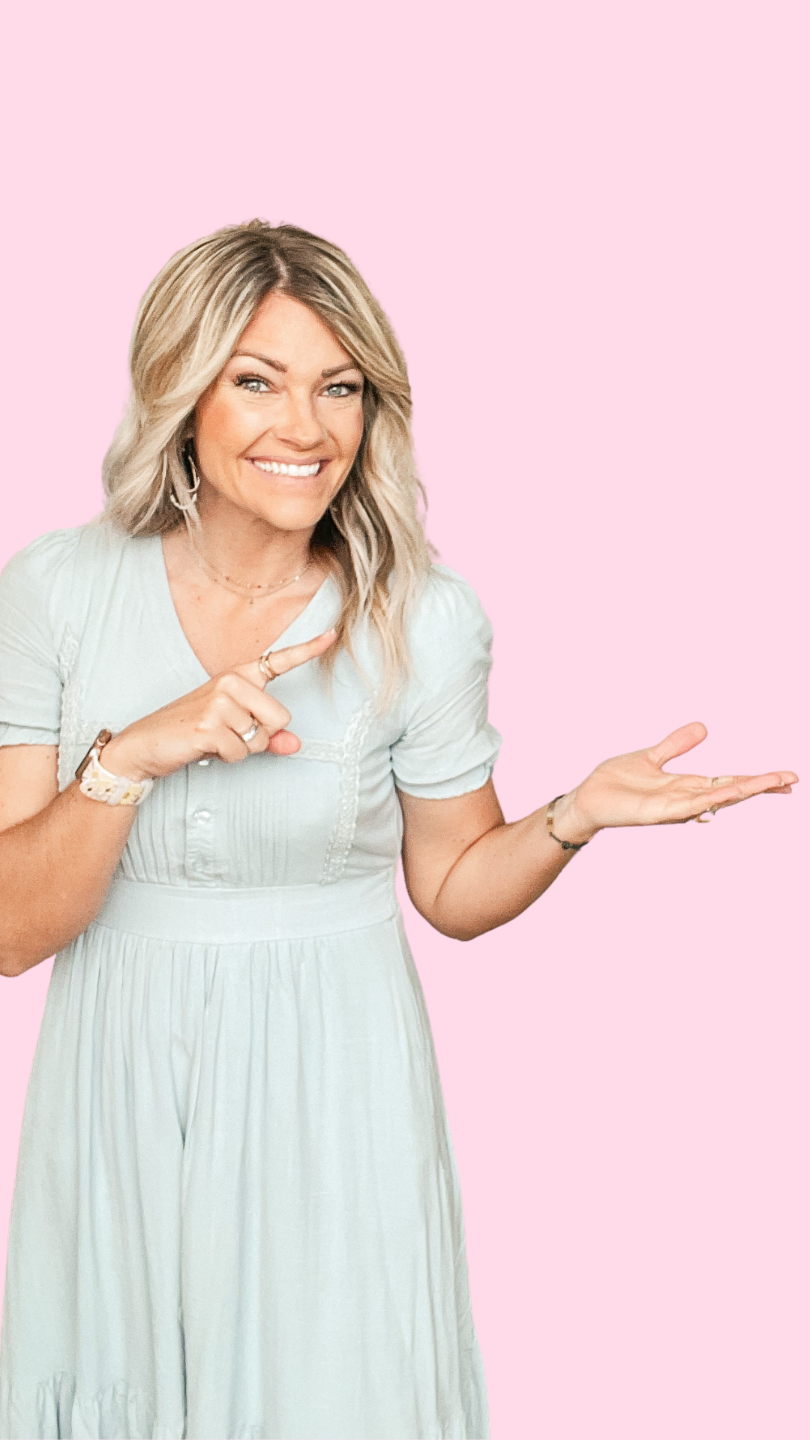 This course is something you're going to love and wish you had sooner. Nothing helps more in business than networking and learning new skills and knowledge continually. You will not be disappointed in the content of the course and the answers at your fingertips. 
We guarantee you will be happy with the knowledge you will learn and the tools you will be given equipping you to find success in your own way in your own business. 
*** Results are based on customers' own actions and productivity in their own businesses. Results may vary and we cannot guarantee your results will be the exact same as Mindy's. ***
Look at you! You thorough reader!
Unfortunately, this is the end of the page! BUT! There is plenty more to read in the course lessons..........